T&B Cable Tray
Cable tray wiring systems offer significant advantages over conduit pipe and other wiring systems. Cable tray is more cost efficient, more reliable, more adaptable to changing needs and easier to maintain. In addition, its design does not contribute to potential safety problems associated with other wiring systems.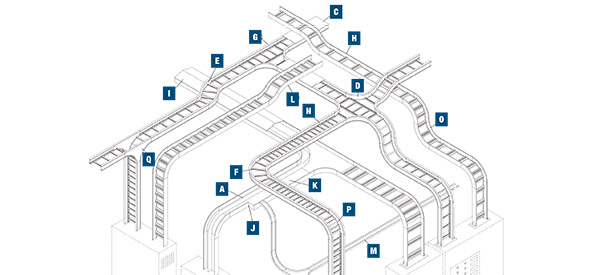 Features & Benefits
Reliability
Cable tray systems offer unsurpassed reliability, resulting in less maintenance and down time—important considerations for all installations and especially for industries such as data communications and financial services.
Adaptability
A major advantage of cable tray systems derives from their adaptability to new needs and technology. The pace of change in the economy, constantly shifting competitive pressures and rapid introduction of innovative technologies are all accelerating. More than ever before, businesses must be prepared to quickly expand facilities, change products or introduce new processes. The flexibility of the wiring system is a key consideration.
Cost Efficiency
Extensive experience has shown that the overall cost of a cable tray installation (including conductor, material and installation labor costs) may be as much as 60% less than a comparable conduit wiring system.
Cable tray systems, including trays, supports, fittings and other materials, are generally much less expensive than conduit wiring systems. In addition, major cost savings are generated by the relative ease of installation. Labor costs of installing a cable tray system can run up to 50% less. Total cost savings will vary with the complexity and size of the installation.